Do you own a primary or vacation home in Palm Desert? Or do you plan to be in the area soon to start looking at Palm Desert homes for sale so you can make this fantastic area your permanent or secondary residence? Located in the heart of Coachella Valley,
Palm Desert
is popular among those who love the arts, want to partake in world-class shopping, and who never want to wear a winter coat. Of course, it's also a place where fine and casual dining in unique and delicious restaurants is the norm. Whether you are already a resident of this warm-weather paradise or plan to visit soon, make sure you put the following restaurants on your list of places to eat.
Palm Desert restaurants you need to try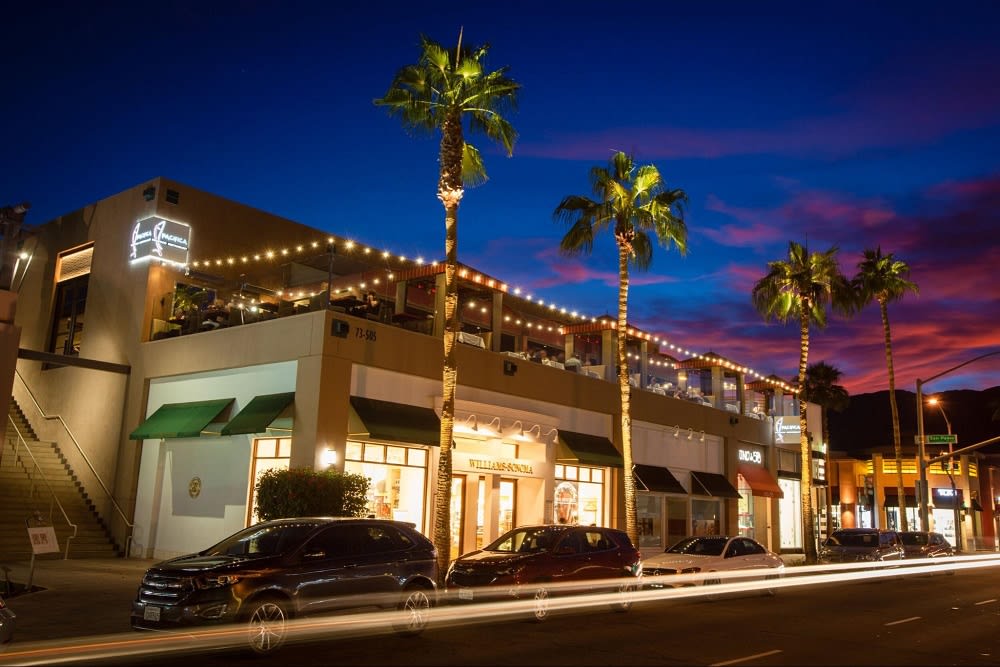 Image courtesy of Pacifica Seafood Restaurant
Winner of the 2021 OpenTable's top restaurant in America for outdoor dining, Pacifica opens for dining at 3:30 pm every day. Their award-winning outdoor patio has breathtaking views of the mountains, and guests can dine all year round in the beautiful Palm Desert climate. In addition to the patio, Pacifica is known for its top-notch hospitality and service, as well as mouth-watering cuisine. Stop in for a happy hour during your search for Palm Desert homes, and sip on a glass of wine while munching on crispy calamari. Or, after your day is done, make reservations to enjoy a sunset dinner. Serviced from 3:30-5 pm, these two-course meals are only $25 and feature a soup or salad along with an entrée selection such as Shrimp Louie or braised beef short ribs.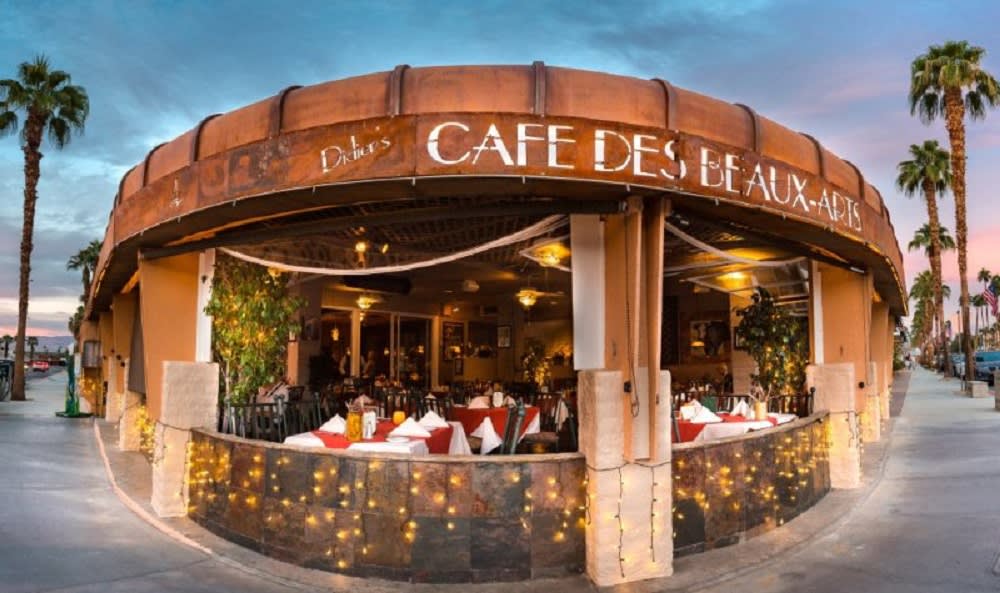 Image courtesy of Café des Beaux-Arts
A lunch of French cuisine is just the ticket if you are shopping on El Paseo or if you're in the area to look at Palm Desert homes for sale. Join other diners on the popular patio or enjoy the indoor atmosphere full of French-inspired art and décor. The lunch menu highlights include chicken curry salad served with fresh papaya, ham and cheese crepes with bechamel sauce, and moules-frites (mussels and clams served with fries.)


If you're an early riser, you can also visit the café for selections such as Eggs Beaux-Arts (poached eggs on an English muffin with a crab cake, spinach, and hollandaise sauce) or breakfast crepes. The café also serves a fantastic dinner menu. Meat lovers can go for the braised short ribs bourguignon, while seafood enthusiasts can enjoy Shrimp Provencal or red trout served with shrimp, lobster sauce, and saffron rice.
Those who own Palm Desert homes and have not gotten enough French cuisine at Café des Beaux-Arts can indulge further at Cuistot. Unlike the Café, Cuistot is only open for dinner and has an elegant atmosphere that is perfect for dates or special occasions. Their award-winning wine list and outdoor seating options are popular with residents and tourists alike, as are their frequent wine dinners. If you want to try out this restaurant, you can stop in for a happy hour bite such as a French Bento Box or stop in later in the evening for a dessert and snifter of cognac. Of course, dinner is also popular, and favorite dishes include California roasted quail, classic cassoulet toulousain, and grilled seasonal sea bass.
This Tuscan-inspired restaurant is a favorite of those who own Palm Desert homes and want to meet up with friends after a long day of shopping on El Paseo. They feature pet-friendly outdoor seating and an upscale casual indoor experience and are open for both lunch and dinner every day of the week as well as Sunday brunch. You can expect to find hearty salads and sandwiches for lunch, frittatas and French toast for brunch, and Italian favorites like chicken Milano, linguini with clams, and veal Scaloppini for dinner. Of course, like any good Italian restaurant, Backstreet Bistro also has a robust wine list that can be ordered by the glass or the bottle.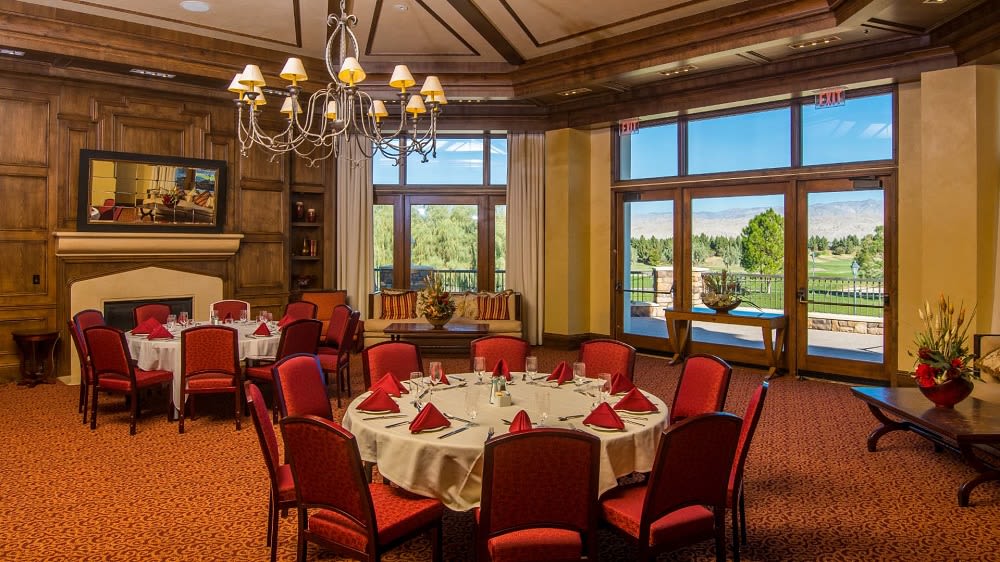 Image courtesy of Classic Club
Though owners of Palm Desert homes who are golf enthusiasts enjoy Bellatrix after a long day on the links, you don't have to be a golfer to enjoy this upscale restaurant located at
Classic Club
. Bellatrix is open to the public for lunch and dinner and also has a wonderful wine bar menu around happy time hours. Popular lunch items include flatbreads and burgers, and there are plenty of fresh seafood and Mediterranean-inspired dishes on the dinner menu to please even the most discerning of foodies. With lunch prices starting at $12 and dinner at just $16, it isn't likely that you'll find as good of value anywhere else — especially considering the beautiful surroundings in which you'll be dining.
Dubbed comfort food with a California twist, Wilma & Frieda's Café is known for its brunch house specialties like signature griddled meatloaf and eggs, BJ's short rib scramble and mozzarella, and Chef Chad's biscuits and gravy. Lunch is also on the menu with a selection of salads and sandwiches, and the café is open for dinner on Thursday, Friday, and Saturday. If you're in the area looking at Palm Desert homes for sale, you might want to make the quick trip to the Palm Springs location of Wilma & Frieda's to play Thursday night bingo in the lounge and enjoy a special menu. Doors open at 5 pm, and bingo starts at 6 for those who buy a $10 ticket.
Looking for Palm Desert real estate?
Whether you already own one of the beautiful Palm Desert homes or you're looking to relocate or buy a vacation property, you should definitely make a plan to visit all the restaurants on this list. Reach out to one of the trusted Palm Desert real estate agents on the
DW & Associates
team for expert guidance.